Back in March, Mum & Dad's beloved Cavoodle Toby crossed the rainbow bridge. He was just shy of his 11th Birthday and was their little fur baby. My children ADORED him and his passing has left a huge hole in all of our hearts.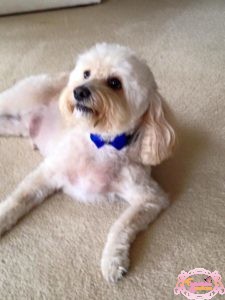 One of our fur babies crossed the rainbow bridge when Charlotte was only 2 months old, and then the other in 2011, so it's been a while since we've had the patter of furry feet in our house. Toby was like our adopted fur baby, and came to stay sometimes which the kids loved. He greeted me every morning I went to work at mum & dad's too, and we all miss him terribly.
Toby had been a frequent flyer at the vet with a rare form of Cushings disease, and so with that came the loving care from many of the vet nurses and our beloved vet Dr Bob.
When the time came, mum wanted to say thank you to all the staff members at Ultimate Vet Clinic and asked me to make cards for them.
Some of the cards are personalised with Toby's name, and spaces left for photographs on them. Whilst this was a sad occasion to be creating cards for, it was one done with lots of love.
The vet nurses and Dr Bob loved the cards and the personalised nature of them.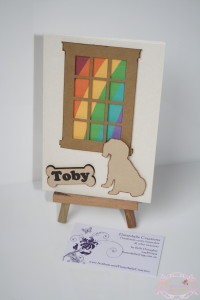 As I make most of my cards to order, I'm more than happy to create a pet sympathy card for you. Feel free to email me your request.
"Faithful friends will always leave footprints on our heart"