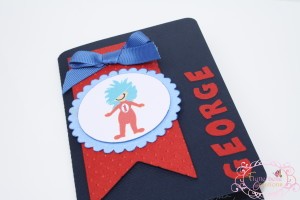 Think Left and Think Right, Think Low and Think High. Oh the thinks you can think up if only you try!
Who doesn't love a Dr Seuss quote?
We had a first birthday party to go to last month with a Dr Seuss theme, and so making a card for the Birthday Boy to match the theme is just what I love to do!
For those of you with Pazzles Craft Room memberships you will know that it is a treasure trove of files and inspiration just waiting to come to life in your projects. If you're not a Craft Room Member – sign up! I didn't think I needed it when I first got my machine, but soon realised it was more than worth the membership.
Now, the card …. I admit I left this one right 'til the last minute, but it didn't matter because it was super easy to put together!
Starting with my card base I drew a rectangle measuring 6 inches high and 8 inches wide so I could draw a dotted (fold) line down the centre so when the card was folded it was a regular 4×6″ card which fits perfectly into a C6 Envelope for my fellow Aussie residents.
To give the card a nice look, I rounded each of the corners with the move point tool in the InVue Software.
There are many versions of the pennant and scalloped circle, so use whichever you like the look of. The 'Fun Thing' file was the one I used for the Thing 1 image.
I made use of the Print & Cut function for the character image instead of cutting out multiple pieces – it speeds up your project and gives a nice clean look. I did add a number 1 to his belly for this particular birthday too. I drew a circle and positioned the Fun Thing graphic into the centre of it before printing it out, and then cutting it out.
After selecting which cardstock colours I wanted, and cutting each element, the process of putting the card together took mere minutes. For some extra texture I ran the pennant and scalloped circle through my Sizzix Texture Boutique with the Swiss Dots Embossing Folder.
I cut out George's name using a Dr Seuss font I had in my collection, and then added a small bow to the top of the pennant. Voila! Card done.
Thanks for stopping by.