A dear friend of ours celebrated her 60th Birthday last month and we were hosting a high tea in her honour. The event has been postponed until later this year, but that's a long story! On the upside, this gives me more time to create more fun décor!
I wanted to wait until we'd had the afternoon tea before posting photos of my projects, but because of the event being postponed, my projects have already appeared on the Pazzles blog! So now it's my turn to share in more detail how I created them.
The menu display uses the Triple tag easel card file from the Pazzles Craft Room and I increased the size to make it a great centrepiece for the celebration.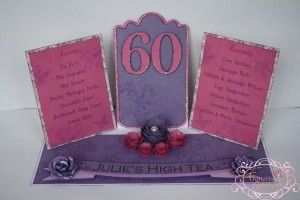 In addition to the  menu centrepiece I created a birthday sign too. When we do get to hosting the afternoon tea, I will stand the sign up on a tissue paper pom pom that's been puffed out only halfway. This way it sits flat on the table and creates a nice base for the sign. I'll post photos when that happens! The layered flowers and twirled flowers are so easy to use, and make decoration so easy.
My birthday sign appeared here on the Pazzles blog.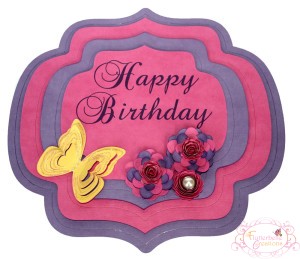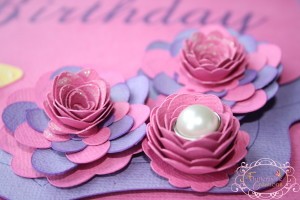 I used the Spellbinder digital dies and deleted quite a few layers leaving just a few. I enlarged these so the finished project was approximately 12×12 inches.
Before I cut out each piece, I used the embossing tool and then the pen tool to draw in the embossed line. This defined the borders on each layer.
To dress it up, I added some twirled flowers also from the craft room and added some Kindy Glitz and a pearl brad for decoration. The pale yellow 3D butterfly looked pretty too.
---
Do you have a special occasion coming up that you'd like to create your own décor for? Browse through the Pazzles Craft room and think outside of the square to come up with some truly unique party décor. I love to look at how I can use a file differently, or pull it apart and put a new spin on it.
I will most likely be making a few extra pieces when we host this event, so I'll post them up too.  Until then, thank you for reading.