Today I'm sharing with you a couple of masculine cards I whipped up with the help of one of the cut & paste sketches from a little while back. The speech bubble card sketch appeared on the Pazzles blog in November 2013, and these sketches are fantastic when you're stuck for a design layout or need something quickly.
I have a confession – I struggle with masculine layouts and cards. I find myself fussing for ages about the colours, the layout, the embellishments…..girls are so much easier!!! That being said, I also enjoy a challenge, so creating cards using this layout is an absolute cinch once you've chosen your masculine papers!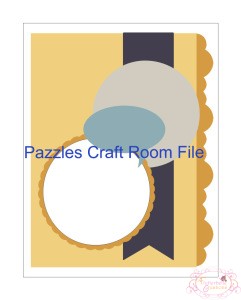 This is what the sketch looks like (left). You can use a pre-made card, or cut one out yourself with your machine and then add these elements to your base.
I had every intention of cutting out every piece from this sketch and then when I went through my paper stash found the little bag of Kaisercraft Collectables from the 'Garage Days' collection. Some of the elements in there were perfect for this card. So I didn't end up cutting the speech bubble or the decorative edged oval.
The co-ordinating paper stack is perfect for card making so I just flicked through that and pulled out a few pages that took my fancy and looked good together.
This card was so quick to put together that I cut two sets in different papers and made two cards! Now I've got a spare for when I need it.

I hope I've inspired you to go through the Pazzles Cut & Paste sketch files and create some quick projects today. I'll be making more cards using these handy sketches!