I'm sharing with you today some invites I created for my daughter's 9th Birthday sleepover earlier this year.
In the Pazzles Craft Room Library, you will find this cute sleeping bag cutting file. It's in the craft room with a camping theme, but is also perfect for sleepovers. I've used this file for both invitations and birthday cards and they always look great, and are something different for the recipient.
I like to use double sided cardstock for the top of the sleeping bag so that when you fold it back you have a decorative pattern showing. You could also use plain cardstock and then use a decorative paper to line the sleeping bag with.
The little pillow is perfect for placing a name on and when adhered to the sleeping bag with foam squares gives it a 3D effect.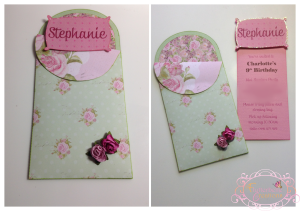 Like with any of the craft room files and the InVue software, you can re-size any file to suit your application. You could even make miniatures of these for placecards at the dinner table!
I love non-food party favours and when I saw some inexpensive onesies at Kmart I knew I had to buy them for the girls and then jazz them up with some rhinestones. I already had a love heart template in my drawer so all I needed to do was get out my rhinestones and iron. Once you've made a rhinestone template with your Pazzles Inspiration Vue you can re-use them over and over. Have a look at this video if you haven't seen how easy creating rhinestone designs is.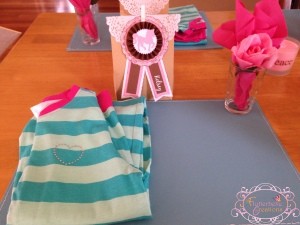 The girls looked so cute in their matching onsies and they loved the little bit of bling. The first initial of each guest's name could have also been done on each pair.
The favour bags were kraft paper bags and I jazzed them up using my Pazzles machine – you can see how by visiting the Pazzles blog here. Inside the bags were a bottle of nail polish and a pillowcase. Before dinner the girls had fabric markers and decorated their pillow cases. They also wrote on Charlotte's so she had a memory of who was at her sleepover.
Thanks for stopping by and allowing me to share these projects with you.