Charlotte & Roslyn
My daughter, and many of her friends are celebrating their 10th Birthdays this year and my dearest friend's daughter is exactly 8 weeks older than Charlotte. I created these lovely invitations for her elegant gathering at a local tea house  (T.E.A Company) which has quickly become a favourite place for us to go. The children's high tea is fabulous value for money and presented in the most adorable way.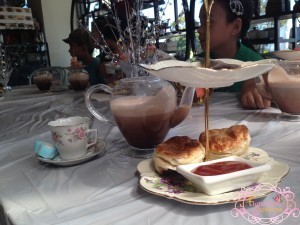 As we were having High Tea to celebrate, I thought it only fitting that I featured a teapot on the invitation.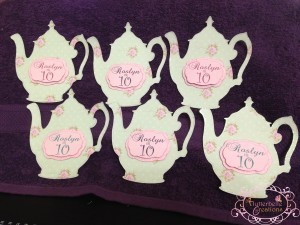 I began with a basic Easel Card in coordinating cardstock colours to the patterned paper I used. To make an easel card base, all you need to do is fold the front of a card in half to stand up and create a tent. For this card, the base card was in Kaisercard – Avocado. I still had some of the True Romance collection in my stash which has since been deleted by Kaisercraft. I get a little sad when my favourite papers are deleted! Please tell me I'm not alone!
To make sure the teapot stood out from the background, I cut a rectangle of 'Candy' and then ran it through my Sizzix Texture Boutique using a flourish folder. Having this extra layer made the card quite sturdy.
I used the 'Vintage teapot with label' file from the craft room, and the labels were perfect for announcing Roslyn's Birthday. I 'Print & cut' the top layer with her name, and ran the bottom layer through the embossing machine.
The invitation portion was created in the InVue software before printing. I made use of the 'time for tea' file and the teacup from the 'Kitchen Tea Set' among the text.
When you make easel cards, foam squares or tape come in handy to raise your layers up so the card has something to rest upon when it's opened. I love these cards because they lay flat for posting and then can sit up on display and look quite impressive on the mantel.
All Roslyn's guests loved the invitations (as did their mums) and I love creating invitations that people will want to hold onto as keepsakes.
Along with the invitations, I whipped up some extra labels to be tied onto small jars as party favours. A little piece of lace wrapped around the jar transformed it from plain to pretty.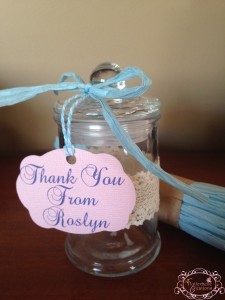 If you're interested in more inspiration and details about other invitations I've created, hop over to my post on the Slumber party invites I created for my daughter last year.
Stay tuned for my next post – I'll be sharing with you Charlotte's fabulous 10th Birthday party, complete with invitations, decor and props.