Pinterest – Oh my goodness, I love this site! I don't need to have magazines piling up at home to go through for ideas and projects to try…..it's all stored electronically for me to search through when required. Years ago, I used to collect clippings of all descriptions and have them filed away in categories to refer to when needed. Now it's all electronic and I'm able to use a search engine instead when looking for something! I absolutely love being able to draw inspiration from some very talented people around the globe and try to recreate some of their work with my own spin on it.
There are many cards I have pinned thinking 'I can do that!' So, I go away and figure out how to do it and make it a reality. The Twist Easel cards grabbed my attention a while ago and so when mum asked me for another birthday card for one of her dear friends, I knew that testing out something new was just the inspiration I needed.
Then Angie's Mother's Day card appeared on the Pazzles blog, and I was inspired by the petal square file she used to make her easel card. I knew I had downloaded it already so I grabbed it and went to work.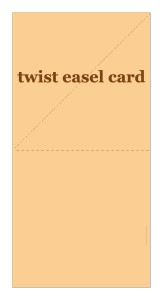 This card looks great, and I'm very proud of it, even if I say so myself! It looks fancy without needing any fancy techniques to create it. I didn't have any cutting files for the base of the card so I simply drew a rectangle in my software about 11″ high and 5.5″ wide. I wanted it a touch under 12″ x 6″ so I didn't have any issues getting it into a square envelope when it was folded.
I then created a kiss cut line across the middle of the card from left to right and then a diagonal kiss cut line from the bottom left to the top right of the top section of the card. This created the necessary folds, but would be just as easy to make without a cutting machine, using your craft knife and scoring tool.
I chose pale blue cardstock for the base and co-ordinated the whole look with Kaisercraft's discontinued Blae & Ivy Collection. The friendship quote was from the page 'Valley' and the blue embossed paper came out of the 6 x 6 paper pad from the same collection. The striped paper cut into the triangle was also from the paper pad.
The flower was layered up by using the petal cut outs from the petal square (no scraps here!) All I needed to do was ink the edges of each piece and curl them slightly around a pencil and then using double sided tape put the whole thing together, and finished it with a resin flower button.
A small paper doily made a nice base for the Happy Birthday message printed onto the die cut scallop taken out of the 6 x 6 paper pad.
The delicate Kaisercraft lace with a strip of pearls over it gave a feminine touch. The pale blue paper flower looks great with the Bella bling flower in the centre. The dimensional paper bow also came from the Pazzles craft room and this is the first time I've used it – why didn't I try this earlier?! I love it! I did only use one layer of the file though.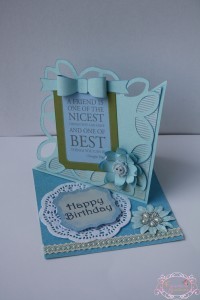 The other twist easel card I created that weekend was for my almost 92 year old Grandmother for Mother's Day. She was suitably impressed by her pretty card, and she wasn't expecting it either.
The purple and yellow colour combo makes me smile and feel cheery! The beautiful pattern of the paper makes you happy too. Another double sided Kaisercraft paper (I have a fair few in my paper collection!) from the Lilac Avenue Collection. This paper was Wisteria. (P420)
The scallop circle doily and the dimensional bow were the only two craft room files required for this card in addition to my cutting file for the base. I simply drew a circle smaller than the middle of the scallop circle and printed the message onto it.
Some strategically placed pearls propped up the card for display purposes, and a little lace bow prettied it up even more.
I hope I have inspired you to create some twist easel cards – they really are so easy, but give a wow factor for the recipient, and their friends when they see it proudly displayed on their mantel.
Happy Crafting!